Bosley - pit at lock 6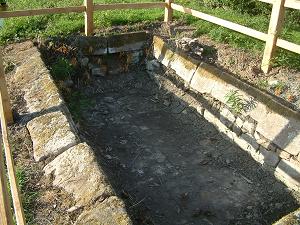 Over the last few years, British Waterways have progressively cut back the vegetation on the offside on the locks at Bosley. At Lock 6 (the one about ¼ mile below the A54 Congleton-Buxton road bridge no. 55 and with the seat in memory of Dr David and Pearl Owen) the mowers have uncovered a puzzle – a rectangle of stones about 12 feet by 6 feet and filled with rubbish. Just prior to Christmas 2005 the small excavator being used to grade the banks ready for fitting new decking above and below the locks also cleared the pit. It was found to be about 3 feet deep with rough stone supporting walls and a stone flagged bottom, but with no connection to the pound above. The problem now is "What was it used for?" as there is no one alive who recalls it being used.
The pit remains open and is surrounded by a fence for safety.
If you know the answer to the puzzle of the pit please email the secretary!