Brian Berrington
Brian Berrington was Chairman of the Macclesfield Canal Society for three years in the 1990s. He will be especially remembered for his energy, enthusiasm and above all his undying good humour.
Brian was really a Caldon Canal resident, living at Boundary near Cheadle and mooring his boat for many years at Denford. He was boating, if that is what you would call an outboard on the back of a rubber dinghy, on watered stretches of the Caldon well before the canal was restored in the early 1970s. But Brian had a love of waterways wherever they were and frequented the Macclesfield, often mooring up below Bosley flight to enjoy the solitude for a few days, always in the company of his little Schnauzer.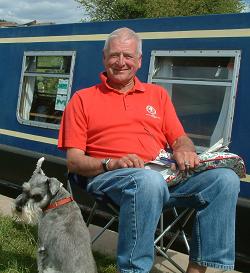 Brian was a lover of music, playing several instruments, a great reader of the classics, an inveterate tinkerer and fixer of mechanical things and, in his younger days, an enthusiastic motor cyclist. He and his wife, Kay, also did the rounds of festivals and events as folk singers. In his later working life he supported the successful business, Mettex, founded by one of his sons, and now run by all three of them, and in retirement conducted an in depth research of the Berrington family history.
We shall miss his laughter.