---
Hurst Lane wharf to be developed
October 2012, updated 24 May 2013; 20 February 2015; 5 August 2015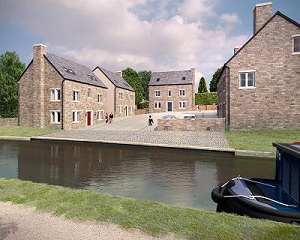 Latest: Work was scheduled to start on site in Feb/Mar 2015, but it never did. We now know that the site has been sold to another developer who has submitted a new planning application CEC 15/3461M
, once again for 7 properties. The number will no doubt be objected to once again. The picture shows the previous application.
Hurst Lane wharf, adjacent to bridge 27 at Bollington, was the subject of at least two planning applications to clear the previous uses and build houses. The first proposal was to build seven houses and, after strong objections, the second to build 6 houses, permission for which was granted.
The site was occupied by timber manufacturing businesses for the past 90 years, 80 of those by the Needham family, more recently by RED Joinery. The site has been cleared and has been vacant since 2013. The site was owned by CRT who, together with specialists, developed the original housing proposals. The site has now been sold to Henderson Homes (UK) Ltd. Ironically, their website
copiously illustrates their development with pictures of the previously permitted proposal!
The boaters who used to moor along the wharf were moved on; CRT say that mooring will no longer be permitted because of the close proximity of the bridge and aqueduct corner. However, the wharf edge will be public space and not allocated to any of the new houses.
Further information and pictures can be seen on the Happy valley web site.