The Macclesfield Canal
The Macclesfield Canal runs for about 27½ miles from its junction with the Peak Forest Canal at Marple, via 12 locks at Bosley, to its junction with the Trent & Mersey Canal at Kidsgrove(the original canal length to Hall Green is 26 1/4 miles).  It passes through beautiful countryside, and touches on several towns – Bollington, Macclesfield, and Congleton. For more details see About the Canal.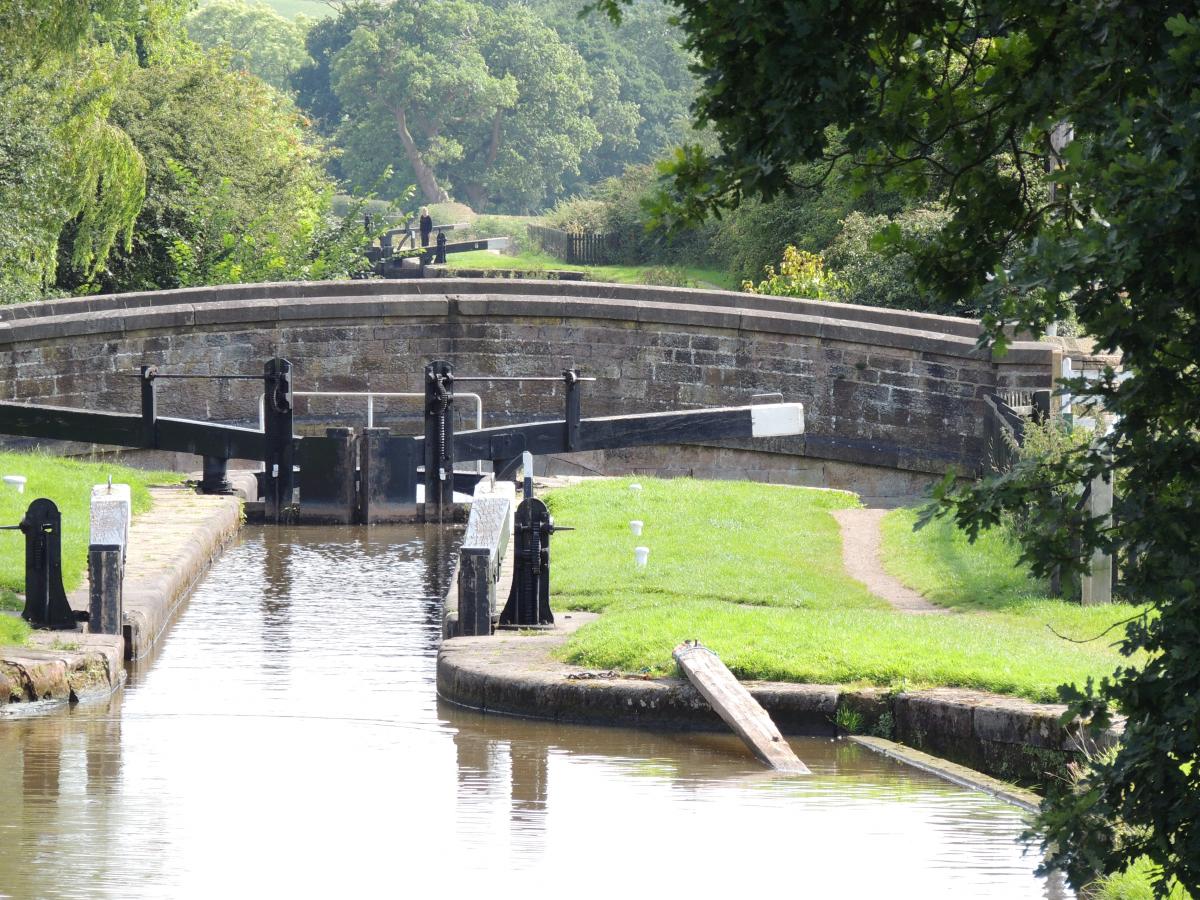 The Macclesfield Canal Society
The Macclesfield Canal Society, formed in 1984, has currently about 130 members, who mostly (but not exclusively) reside in the Macclesfield area.  Its aim is to promote the canal by means of liaison with local authorities, the Canal & River Trust and the Inland Waterways Association (IWA). Also leading several local canal adoption groups such as the MAG-Macclesfield Adoption Group , BLAG-Bosley Locks Adoption Group , Sutton and Lyme Adoption Group, CAG-Congleton Adoption Group plus a Roving Task Force Team ...this covers the other areas of the canal. In Addition the MCS Teams liaise and work with other Adoption Groups on the Macclesfield and Peak Forest Canals.
In 2021  we also helped to re start the Sutton and Lyme Adoption Group previously run by Mark Atkins , as a tributer to his great service to his local community and the canal over many years we did want to see it fade away so took over the leadership of this group which now meets at Br 44 every second thursday of the month . Please let us know if you would like to join this group. 
The Macclesfield Canal Society is especially proud to be associated with the Green Flag Award awarded in 2015 through to 2023 to the whole length of the canal  for a public green space of special merit.......The Macclesfield canal was the first canal in the world to receive a Green Flag Award...
Activities
The Society holds monthly Meetings now (generally)on the third Friday of the month, September to May, when a speaker, usually from outside the Society, gives a presentation, often illustrated, on a subject related to canals, or of interest to canal enthusiasts.  These meetings are held at The United Reform Church Townley Meeting Rooms , Townley Street, Macclesfield SK11 6HZ, and start at 7.30pm.  These meetings are free to members, but visitors are always welcome(we would ask for a donation from visitors please). For details of future meetings, see Meetings Program. 
PLEASE REFER TO THE NEWS SECTION OF THE WEBSITE FOR MORE INFORMATION ON OUR PHOTOGRAPHIC COMPETITION FOR 2023 
As Mentioned above we will resume society meetings in September 2021 .........at a new venue ,the United Reform Chiurch Meetings Rooms on Townley Street Macclesfield sat nav address is SK11 6HZ (basically behind the Jolly Sailor pub ) there are parking facilities nearby and we look forward to seeing everyone again in September . Also please note that due to availability of this new venue we have moved our meetings to the third Friday of the month in the evenings, meeting start is 7:30pm through to 9:30 pm . We will have drinks available , for a donation please . Please refer to the Programme to get more details on the presentations .
WORKING PARTIES  , these have re started but we are using our existing distribution lists to remind volunteers of these sessions , so if you want to join in please contact the Secrtetary or Treasurer for more information.In conjunction with other bodies, outlined above, the Society engages in Work Parties when required, to carry out such work as tidying or repair of the towpath, pruning canal side vegetation.  This work has included re-instatement of towpath features, such as benches or mooring rings.  Work parties at Bosley Locks are enhancing the location by provision of a herb garden at Lock 5, and re-instatement of the Lock-keeper's orchard at Lock 11.
LOCK KEEPING DUTIES ON THE BOSLEY FLIGHT  .There are 18 volunteer lock keepers signed up and trained on the Bosley Flight(not all of us on duty each session of course !) , we are there to help you safely through the flight.We are working to restrictions due to the water shortage (mainly as aresult of Toddbrook closure  until late 2024) on every Thursdays and Sundays from 8:30am to 1pm until further notice. Please check on CRT "Alerts" website for current restrictions. Use the e mail addres below and contact us if you need any help through the flight , we will try to help you if we can ! Yes we do anticipte that the locks will operate under restrictions again this year , but no details on this available yet .
Projects
In recent months the Society has supplied and erected Information Boards at selected points on the towpath in the Macclesfield area, re painted the Dane Aqueduct plus numerous activities arranged via the Adoption Group Teams along the canal length....we are currently working on our plans for work in  2023/24.
We are working with CRT on the Annual Offise Vegetation Clearances , this started in January and will continue until early March (bird nesting starts) pretty much every working day , we willm provide volunteers to work with CRT and do cutting chipping and helming work to assist CRT in this great task . This year the target is to clear the whole of the Macclesfield canal ..yes the entire canal .....so not a big task really !
Earlier projects have included the re-instatement of the Milestones, the repair and repainting of the ornamental towpath railings at Ramsdell Hall (Scholar Green); the repair of Bridge 47 (Lyme Green); the rebuilding of Bridge 30 (Macclesfield).
In the last 12 months we have re painted 6 bridges , and put up many bird boxes , prepared and painted Ramsdell Hall railings , cleared vegetation, laid gravel on towpaths using the Adoption Groups along the canal (for details see Calendar section), in addition we continue to work on one of the main Bosley Feeders (Radcliffe) clearing vegetation and silt from the gate valves to try to ensure we have suffiecient water in the reservoir for the season.
A regular annual project is the paintying of as many locks as we can on the Bosley Flight, in 2022 we painted 5-6 locks , this year 2023 we will start painting once the weather is warm enough ........and hope to touch up the others to keep them in a good presentable state ! 
PPM ASSISTANCE FOR CRT. This year we have taken on more PPM work for CRT (Planned Preventative Maintenance) this is a monthly list of maintenance tasks (inspecting and clearing culverts , weirs , sluices along the length of the canal) this has been of great help to CRT as PPMs are an essential element in their KPI's (Key Performance Indeces ).
Publications
An illustrated quarterly magazine 'Milestone' is published by the Macclesfield Canal Society, and is free to members.  This contains reports of monthly meetings, and articles of interest supplied by members, as well as details of forthcoming meetings and work parties.
The Society publishes a Map Leaflet, showing the whole length of the canal, and indicating useful facilities and points of interest along its length.  This is available from Map Boxes (accessed using a CRT key) which are located at Marple, Bosley Top Lock, and Hall Green Lock.  A contribution to support the production of these leaflets is requested from those who take a copy.
NEW information :
Please note that  the Congleton U3A  are running an painting exhibition based on the Macclesfield canal , please use this link to view the paintings  https://www.u3acongleton.org.uk/store/docs23-24/Tue+Fri-ArtGroups-Exhibi...
Membership
Membership of the Society is open to anyone who shares the aims of the Society. The membership fee is only £15 per year, please download a MEMBERSHIP application FORM or contact the Membership Secretary (email: membership@macclesfieldcanal.org.uk) for further details.
Contacts
The Secretary of The Macclesfield Canal Society can be reached by email at:
secretary@macclesfieldcanal.org.uk, or (snail mail) 5 Ridge View, Macclesfield, SK11 8DB.
Links
Other bodies associated with the canal:
Canal & River Trust Tel. 0303 0404040.
Inland Waterways Association Tel. 01494 783453